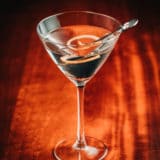 Print Recipe
Vesper Martini
Versper Martini, shaken not stirred, not as shook as the Bond fanbase was when they found out there's going to be a lady 007 Agent, but shaken nonetheless less.⁠
Ingredients
90

ml

Gin


I've used Gordron's here.

30

ml

Vodka

15

ml

White Vermouth⁠
Instructions
In a cocktail shaker, combine the ingredients with ice.

Shake well and strain into a chilled cocktail glass.

Garnish with a twist of lemon peel.⁠
Notes
Original recipe from Casino Royale, Chapter 7. ""Three measures of Gordon's, one of vodka, half a measure of Kina Lillet. Shake it very well until it's ice-cold, then add a large thin slice of lemon peel. Got it?"