This one's my way of making a Little Kiss Cocktail from Liquor.com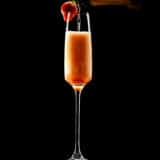 Print Recipe
Pretty Woman Cocktail
Did you know that strawberries bring out the flavour in champagne? They do (apparently), but this is Prosecco in this particular cocktail - just go with it - I'd like to believe that it's very much the same thing. Similarly, I believe most things that Richard Gere says in the hit 1990 movie, Pretty Woman are true.This one's a mix of frozen puréed strawberry, creme de cacao blanc, Cognac (Hennessy_ni) and prosecco, that you may find on the drinks list at The Blue Banana or indeed The Regent Beverly Wilshire. Try making one yourself at home; it's even better than Pirates of Penzance. I'm off to have several as I made the big mistake, huge, of looking at my work emails over the weekend. So whatever, you're up to in lockdown, you take care of you, don't take less than a hundred and in case I forget to tell you later, I had a really good time tonight.
Ingredients
35

ml

Frozen Strawberry Purée

Purée or blend fresh strawberry and add to ice cube trays, measuring in 35ml portions

15

ml

Cognac

Hennessy

30

ml

Creme de Cacao Blanc

90

ml

Prosecco

Or any sparkling wine or champagne
Instructions
Add cognac, frozen strawberry purée cube and creme de cacao to a mixer and shake until the frozen strawberry has melted.

Add the contents of the mixer to a chilled champagne flute, and top with prosecco.